Insights from BioCanRX Summit for Cancer Immunotherapy 2023
By Paul O'Connell, Research Program Lead, LLSC
I just got back from the 2023 BioCanRX Summit4ci that was held in Ottawa October 1-4 and I want to share a few of the amazing highlights that have come out of the conference this year.
The opening keynote presentation was from Dr. Pieter Cullis from UBC whose work is responsible for fundamental advances in the development of nanomedicines employing lipid nanoparticle (LNP) technology for delivery of cancer therapies, gene therapies and vaccines. Dr. Cullis not only has had a huge impact on cancer therapies, but he also provided essential work helping Pfizer and BioNTech create the COVID-19 vaccine! Dr. Cullis' role was creating the system for getting the vaccine's active ingredient into human cells.
You may be thinking...how do you top that? Well, you ask the father of cancer immunotherapy, Dr. Steven Rosenberg, to deliver the closing keynote presentation. Dr. Rosenberg started his pioneering work on immunotherapy in the late 1970s when almost nothing was known about T cell function in cancer and there was no convincing evidence that any immune reaction existed in patients against their cancer. Decades later, Dr. Rosenberg discovered that T cells could be genetically modified to detect and destroy cancer in patients and thus CAR T-cell therapy was born!
Sandwiched in between these incredible scientists was work that described:
How we can engineer naturally occurring components of our cells called extracellular vesicles (EVs) to deliver drugs, etc. directly into a tumor/cancer cell
How tumor heterogeneity (the types and combination of cells within a tumor) affects the effectiveness of treatment
"Cold" vs "hot" cancers
"Releasing the brakes" on immune checkpoint inhibitors
"Off the shelf" CAR T-cell products
Engineering CAR T-cells "in vivo" - meaning without removing T cells from our body
How our gut health (microbiome) impacts the effectiveness of CAR T therapy
Plus, lots more!!!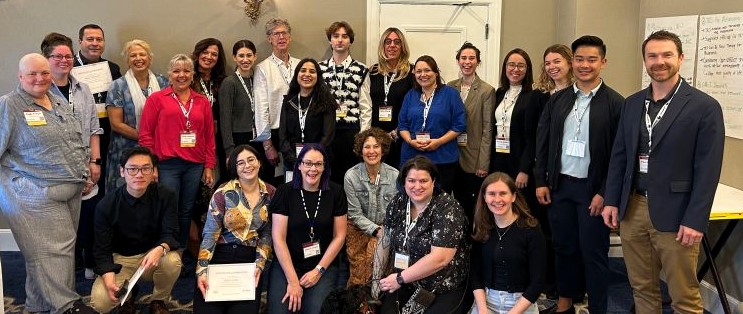 Oncology patients + immunotherapy researchers 
At the conference, I wear a few hats including judging presentations and posters but the highlight for me is The Learning Institute, for which I act as a co-chair.
The Learning Institute brings together leaders from oncology patient communities and immunotherapy research academic scholars to discuss the work that is presented at the conference. Academic scholars are exposed to the realities of the cancer patient experience and patient leaders are familiarized with research concepts in immuno-oncology. To say that this is a powerful experience is an understatement; I come away from this experience with an unmatched sense of enthusiasm and inspiration.
The Learning Institute helps to foster the next generation of researchers who now have a new perspective on what their research means as well as the patients advocates who have a new sense of understanding of the science.....it is a powerful combination to say the least!
If you would information about any aspect of the LLSC research program, please reach out to me via email: paul.oconnell@lls.org.