A total of $600,000 in pediatric blood cancer research innovation grants to three top Canadian scientists
Canadian researchers exploring precision medicine with immunotherapy – including alternatives to chemotherapy for infants, and how a zebrafish gene could help with inherited bone marrow disorders – have received a total of $600,000 from the Leukemia and Lymphoma Society of Canada (LLSC) for pediatric blood cancer research innovation.
"Imagine a child getting a therapeutic vaccine instead enduring a two-year, grueling chemotherapy treatment with immediate and long-term consequences that irreversibly worsen their quality of life," says Dr. Trang Hoang, one of the 2023 recipients of the Pediatric Blood Cancer Research Innovation Grants from LLSC.
To help achieve that alternative to a long course of chemotherapy, she and her fellow University of Montreal researchers Drs Pierre Thibault and Claude Perreault, are looking to identify proteins only found on the surface of leukemic cells, called tumor-specific antigens (TSA), that can be targeted to trigger patients' anti-leukemic defense.
"In this era precision medicine, we can do better," says Dr. Hoang.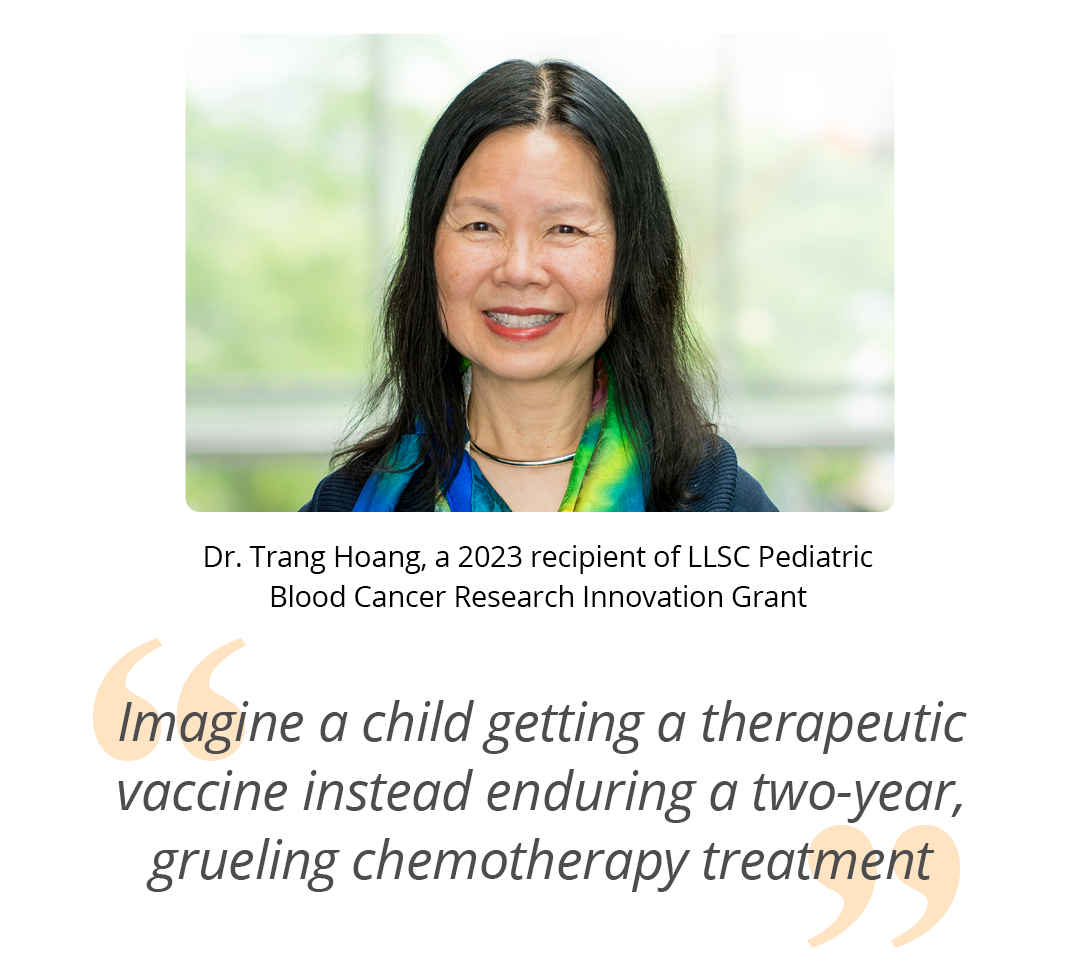 Similarly seeking an alternative to chemotherapy for children – in his case, infants under the age of one with leukemia – Dr. Jean-Sebastien Delisle at the Hopital Maisonneuve-Rosemount in Montreal, is studying how the sequence of abnormal proteins causing infant leukemia can be used as immune targets.
Dr. Jason Berman, at the Children's Hospital of Eastern Ontario, in Ottawa, is working to prevent childhood leukemia before it develops – by studying how a gene in zebrafish affects blood production and causes defects in blood cells. 
"We are committed to investing in Canada's leading blood cancer researchers who are conducting vital and innovation investigations," says Nadine Prévost, Business Unit Director – Research and Community Support, LLSC. "We support the research of, and people affected by, 137 types of blood cancers within leukemia, lymphoma, myeloma, myelodysplastic syndromes, and myeloproliferative neoplasms."
LLSC 2023 research investment in total in 2023 includes nearly $5 million for 37 blood cancer researchers, including 14 women, at 21 universities and hospitals in five provinces.
Approximately one-third of expenditures by LLSC each year goes to research; the rest goes to supporting persons affected by blood cancers – including services delivery coast to coast – public education, fundraising, and operations that match community needs.