Children are not little adults. However, the youngest people experiencing a blood cancer face the biggest challenges. They endure toxic treatments and deal with serious long-term side effects.
More often than not, children are treated with regimens and therapies developed for adults. However, the biology of pediatric cancers is distinct from adult cancers and that is why we need research focused on children and new therapies developed specifically for children.
Currently, the federal government and drug makers are more likely to invest in research on treatments for adults simply because cancer is more common among adults than children. Additionally, the rarity of childhood cancer means that it is difficult to conduct clinical trials to continue to make improvements in treatments because of the small population. Finally, improving therapies for children is challenging as researchers might not have access to the information they need because the crucial data is siloed and difficult to access.
The result? Children with cancer are left with existing—rather than innovative—treatments that have long-term side effects. They deserve better. They deserve treatment that is tailor-made for their cancers.
The Leukemia & Lymphoma Society of Canada supports policies that remove barriers to access to treatment and care for children diagnosed with a blood cancer, and which accelerate the development of new treatments for childhood cancers.
We are currently working on our action plan for childhood cancers. Come back soon to learn more.
Image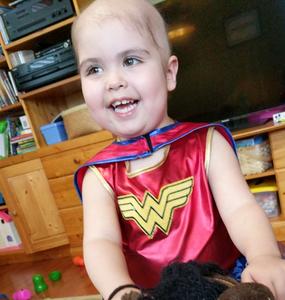 Advocacy in action
As parents of a toddler diagnosed with cancer, the most difficult thing Ameila's parents faced was her diagnosis. One minute she had her whole life ahead of her, the next minute she was in for the fight of her life. The first weeks after her diagnosis were a blur and Amelia's treatment and surgery left her quiet and sullen and she was unable to understand what was happening.

As her parents, all they could do was to stay by her bedside and put their trust in her medical team. They also leaned on organizations like LLSC to help them understand Amelia's disease, treatment and side effects. The LLSC local family coordinator also became a vital member of their support network, lending an ear and providing advice on how to handle various situations.

Amelia's cancer is now behind her and she and her family actively support the organizations who helped them.